Hadoop Consulting
We provide Hadoop solutions and services using Cloudera suite of Products.
Hadoop is a rapidly evolving Open Source framework scalable for processing huge datasets in distributed systems. It enables users to store and process huge volumes of data and analyzes structured and complex data. Hadoop project is maintained by Apache Software Foundation and is written on Java.
Infosytech delivers Cloudera distributed Hadoop (CDH), providing Hadoop users unprecedented stability, predictability, and reliability. Using Cloudera Manager – an end to end application that runs the full lifecycle of Apache Hadoop – enterprise can improve performance and quality of service and reduce operational costs.
Figure: Cloudera Manager for Apache Hadoop
Cloudera Manager is used for configuring role instances and can monitor Hadoop services for HDFS, HBase or MapReduce. It can also monitor user activities, search logs, and entries on the jobs we are running.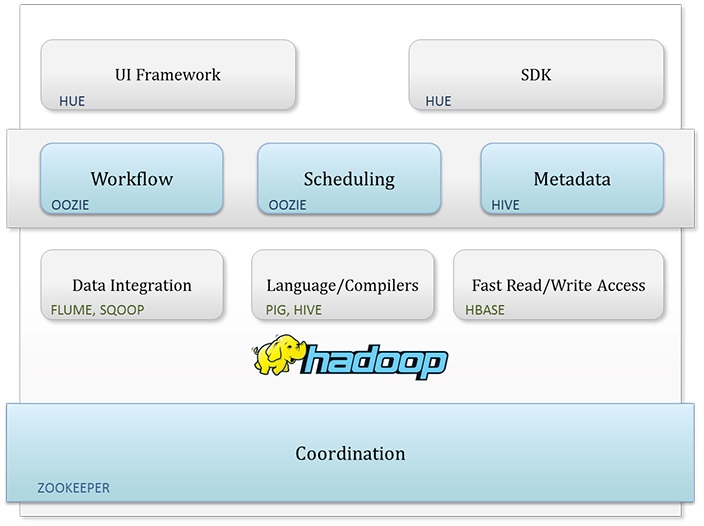 There are a few components around CDH which can be used to resolve high volumes of enterprise content
MapReduce Framework: a distributed data processing framework that provides a clear abstraction between data analysis tasks to provide reliable large scale computation
HDFS: Hadoop Distributed File System delivers a scalable, fault-tolerant storage at low cost. The files are stored across a collection of servers
HBase: Provides random, real time read-write access to content and creates relationships between the objects
Flume, Sqoop: Reliable data collection system that can be used to integrate with applications
Hive: Runs analysis similar to data warehouse system but in larger quantities of data
Pig: Runs analysis of large data sets to derive intelligence.
Infosytech Hadoop Offering
Hadoop Consulting, Hadoop Implementation and support services
We have Certified trainers of Cloudera certified Hadoop System
Big Data Portal: building a User Experience Platform with the robust features of Big Data technologies to create a single portal window using Liferay, Drupal etc.
Infosytech Hadoop Advantage
We aim to be the Cloudera Global Partner to provide Hadoop consulting and support.
Big Data Practice with expertise in processing and storing large quantity and variants of data