RENT A CLOUD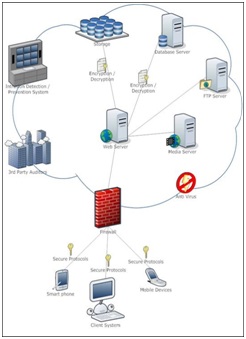 Distributed computing is effective and versatile yet keeping up the strength of transforming such a large number of occupations in the distributed computing environment is an exceptionally mind boggling issue with burden adjusting getting much consideration for specialists. Since the occupation entry example is not unsurprising and the limits of every hub in the cloud vary, for burden adjusting issue, workload control is. pivotal to enhance framework execution and keep up security. Burden adjusting plans relying upon whether the framework progress are critical can be either static and element . Static plans don't utilize the framework data and are less perplexing while element plans will bring extra expenses for the framework however can change as the framework status changes.
Distributed computing is a drawing in engineering in the field of software engineering. In Gartner's report, it says that the cloud will bring changes to the IT business. The cloud is changing our life by furnishing clients with new sorts of administrations. Clients get administration from a cloud without giving careful consideration to the subtle elements. more...
Advantages of Cloud Computing include Elastic Web-Scale Computing more...
Load balancing schemes depending on whether the system dynamics are important can be either static or dynamic. Static scheme does use the system information and are less complex. more...
Current Market for Cloud customers are in increasing trend and current growth in customers brought up the necessity to address the needs of the discrete consumers. Any consumer that uses the Cloud Servers and Cloud Computing for personal use like storing and backing up user data which contain personal records like Music, Movies etc are categorized as individual Consumers. more...
With the vast experience in building the successful products, we are adopting agile based Prototyping Model as Life cycle of the Product development. This is a cyclic version of the linear model. In this model, once the requirement analysis is done and the design for a prototype is made, the development process gets started. more...
Currently this product is under development at Infosytech Information Service Division. Proof of concept for some of the features for the product is completed and will be available for demo for the interested clients. more...
RENT A CLOUD - Click here to go to the product demo